A new year means plenty of new adventures to be had, and if you're looking for your next exciting destination, then South Africa should definitely be on your bucket list. Whether you're going for a two-week family-holiday, a solo trip or a longer backpacking adventure, there is so much to see and do in this adventurous nation.
You may have already heard good things about this bucket list-worthy destination from friends or family, but you might not be aware of why so many people want to visit. So, to inspire your trip, we've put together this guide of six reasons why you should visit South Africa in 2020. Happy travelling!
1. For the Adventure
Are you an adrenaline junkie? Or perhaps you're looking for a holiday that ignites your sense of adventure? Then South Africa is definitely your place to visit! If coming up close and personal with lions (on safari) isn't enough, then consider going cage diving with sharks or kayaking with hippos and crocodiles. Not only that, but the nation boasts some of the best skydiving and zip-lining experiences that the world has to offer. And if somehow all of that is still not enough for you, then you could also go whitewater rafting in Western Cape or do a bungee jump at the Bloukrans. Basically, what we're saying is that South Africa is the perfect place for thrill seekers and those looking to do something unforgettable on their holidays.
2. To see the Animals
One of South Africa's biggest selling points is its incredible wildlife (we've touched on some of its animals above), it is even home to Kruger National Park, one of the world's largest game reserves. You can venture out on your own or you can book up with a trusted tour provider if you're looking for a bit more insight into the animals you're seeing. Lions, cheetahs, giraffes and elephants are just some of the amazing animals you can see from your safari vehicle, as well as some of the more native species such as the greater kudu bull.
And just when you think nothing can top your safari, it can! Why not take a day out to the beach to see some penguins. Yes, you read that right. Where else in the world can you go to the beach, enjoy the sun and the sand, all the while watching penguins go about their daily lives. At Boulders Beach in Cape Town there is a colony of around 3,000 penguins and you can even visit the sea bird rehabilitation centre if you want to know more about these great birds.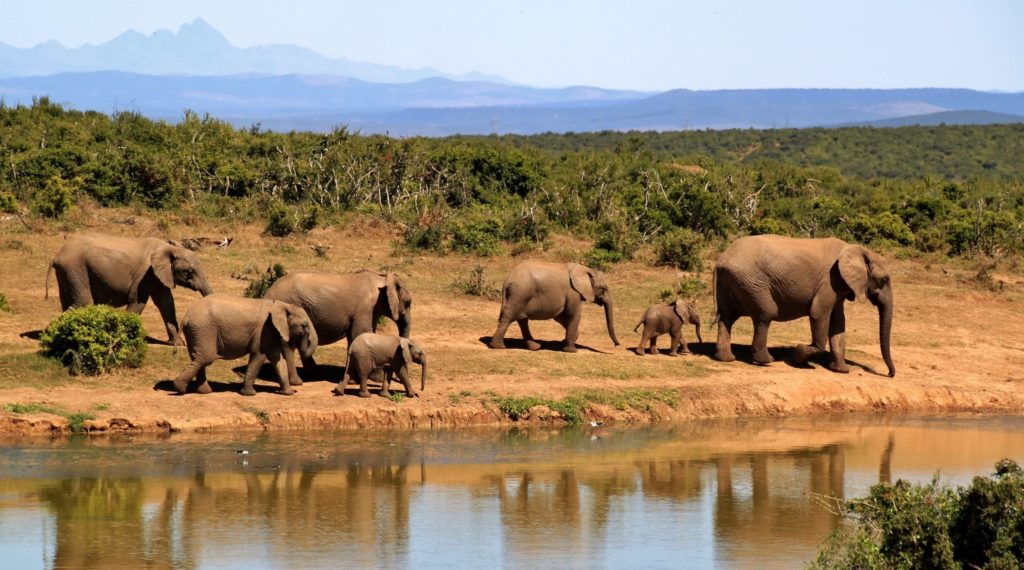 3. To sample the Food and Drink
If you're a bit of a foodie or you like to be daring with your dinner plate, South Africa is sure to delight. Though they take a lot of influence from other nations, South Africans have some of the tastiest and more unique meats the world has to offer. For example, you won't struggle to find ostrich or bull on the menu. They love to BBQ so you can rest assured your meat will be cooked to perfection, whatever you choose! You can also try the classics like Biltong, which is very similar to beef jerky.
When it comes to getting a drink, you'll also find you have a choice of some of the world's greatest beers and wines. A lot of beer is produced here and if you go to Johannesburg you can enjoy the SAB World of Beer Tour. South Africa is also famous for its wine, with most of its vineyards being located just outside Cape Town. You can buy these local wines in restaurants or visit the vineyards themselves to have a tasting if you're a bit more of a wine connoisseur.
4. Because language is no Barrier
If you get nervous about going somewhere where you don't speak the language, you can feel confident that you'll be fine in South Africa. In fact, not only do most people there speak English, many are bilingual, trilingual or can speak a number of different languages. There are 11 official languages spoken in South Africa and while you can safely assume they speak English, it is an incredible experience to hear the locals speaking Zulu, Afrikaans, Xhosa or any of the other amazing dialects they have there.
5. To learn about its Incredible Past
If you're a bit of a history buff or you just love to learn about the history of other cultures, South Africa is something to behold. Its history is somewhat a tumultuous one but is absolutely worth learning about. What is most fascinating is that we're not even talking about ancient history either, as recently as the 1990s apartheid was still going on across the nation. You can visit the Constitutional Court or Apartheid Museum in Johannesburg, but either way you'll be able to learn about South African history everywhere you go.
6 .To explore its wonderful cities
Finally, South Africa is home to a number of incredible cities and is one of just twelve countries in the entire world to have more than one capital city – in fact, it has three! Johannesburg is the largest city and interestingly has more tress than it does people (10 million trees to 9.5 million people). Cape Town, Pretoria, Bloemfontein are the three capital cities, and all are worth a visit if you get time, but of course it depends on how long you plan to stay. 
If you're short on time and have to be selective, Cape Town is one of South Africa's most popular cities and biggest tourist attractions. It is a beautiful seaside city with stunning views of the famous Table Mountain National Park. Here you can do your usual city activities like sight-seeing, dining out in great restaurants and shopping, with the added bonus of being able to go whale watching down at the beach as well! The stunning coastline there offers a lovely evening stroll, with plenty of bars within walking distance.
Author –
Written by Sarah McCann, Blog Editor at MyBaggage.com providers of luggage shipping services all around the world.