Singapore is a small country of many colors and races under one umbrella. It is a small country but is Asian at heart. Historical shop houses and heritage buildings coexist against some amazing contemporary buildings. There is enough to do for people of all age groups.
1. Take a Walk along MARINA BAY WATERFRONT PROMENADE
Marina Bay Waterfront Promenade is a 3.5-kilometre long walking path that is lined with lots of attractions at Marina Centre, Collyer Quay and the Bayfront. The promenade is beautifully designed as an environment-friendly recreation area. Singapore's Marina Bay is a mix of nature, adorned with the most modern skyscrapers and some uniquely architectured buildings. The promenade gives locals and tourists an up-close view of the bay. It doubles up as a viewing area for various public events.
The Marina Bay Waterfront Promenade is an ideal place to be for lots of cost-free activities along the bay. Children can have fun at the fountains. Lovers can take a romantic long walk. Health consious people can take a run or cycle or even have yoga sessions. And everyone can sit at the enjoy amazing sunset views. You can catch on some free outdoor performances around this area often.
HIGHLIGHTS AT THE PROMENADE
Wonder Full Light and Water Show is considered as the largest one in Southeast Asia. This free show features a beautiful show of laser lights and water projections, accompanied by orchestra music. It can be best viewed from Event Plaza, which is a place that hosts concerts and other performances. The Helix Bridge forms the connection from Marina Centre to Marina South towards Gardens By The Bay. This uniquely designed pedestrian bridge has a double helix that resembles the DNA. Four viewing platforms are strategically located along the bridge for sightseers to enjoy breathtaking views of Singapore skyline. The Art Science Museum is a lotus shaped building and is a part of Marina Bay Sands. Explore the museum's 21 galleries and indulge in the world of art and science that helped shape the human society of today.
2. ORCHARD ROAD – THE FASHION STREET OF SINGAPORE
Orchard Road is a 2.2-kilometre shopping and entertainment avenue in the heart of Singapore. This posh market area is lined up with luxury shopping malls, restaurants, cafes and hotels. Orchard Road owes its name to its history as a farming area filled with fruit orchards but gone are all the fruit trees. Modern-day Orchard sees all the lavish shopping centres rising and shining. ION Orchard, Paragon, Orchard Central, Ngee Ann City, Plaza Singapura and Tangs are the most loved malls in this famous street.
ORCHARD ROAD – Glamour of Singapore
A walk along Orchard is a chance to know how happening Singapore is! Every season or festival, especially Christmas time, this place is decorated beautifully. There is a long list of shopping malls and retail shops on Orchard Road and even an entire day is not enough to explore them all! Once there, you will be awed by the wide array of goods for sale from various shops, especially during Great Singapore Sale, an annual sale season.
POPULAR SHOPPING MALLS ON ORCHARD ROAD
ION Orchard is the most glam shopping mall in Singapore. It has 300+ stores and something to note – some of these stores offer 10% discounts for tourists through the Ion Orchard Tourist Wallet. All the major international brands are here to splurge with flagship stores of Giorgio Armani, Prada, Louis Vuitton, Cartier, and Dior. Ngee Ann City is another must visit mall on Orchard Road. It has the famous Takashimaya store and Kinokuniya that is Singapore's largest bookstore. Popular brand shops and Asian restaurants can also be found in this mall. Lucky Plaza mall is the bargain hunters paradise. It is notable for affordable deals on electronic goods, cameras, and mobile phones and we highly recommend it for souvenir purchasing and Philippines' cuisine food joints.
3. EXPLORE DOWNTOWN SINGAPORE ON A BUMBOAT
In Singapore, bum-boat refers to water taxi that's used for fast transport and city tours. They follow the same route with stops at the promenade, Boat Quay, Clarke wharf, Clemenceau, and Robertson wharf.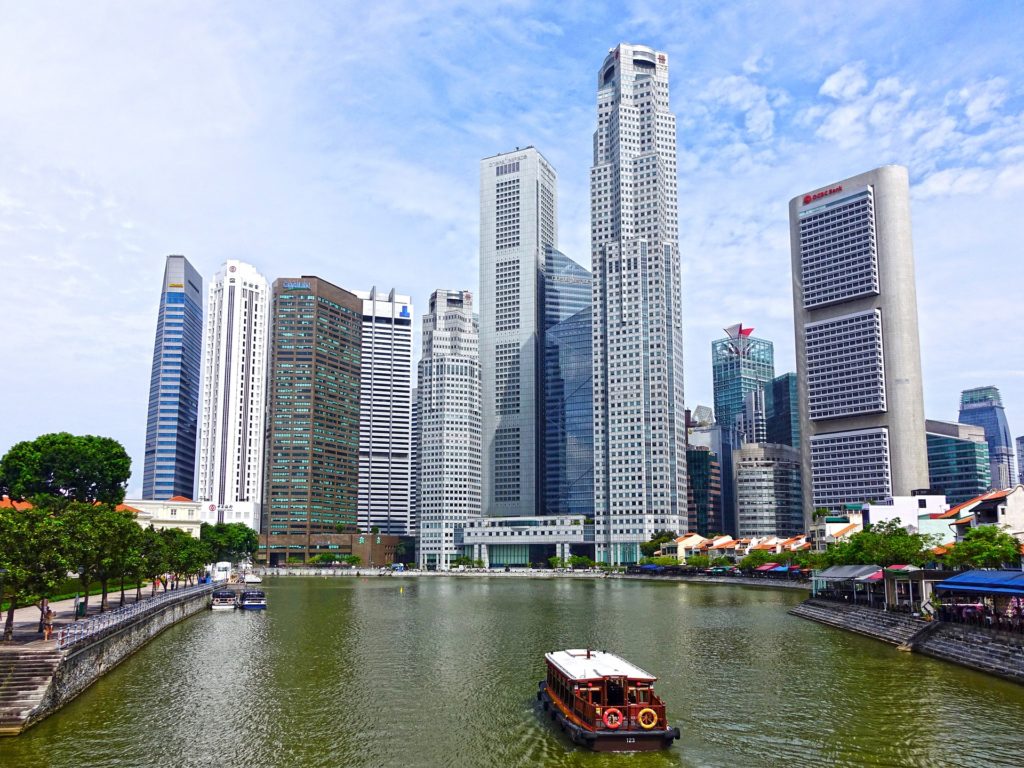 WHY River Cruise is a must do?
A boat ride down Singapore river is that the least expensive to see the gorgeous sights of downtown Singapore. Go in the late afternoon to catch the sunset and find the best views of day and night views of the city. A nighttime boat trip may be a nice likelihood to fancy the light and water show at Marina Bay.
LANDMARKS TO SEE ALONG THE BUMBOAT ROUTE
The Merlion is undoubtedly the most identifiable symbol of Singapore. It was built by Lim Nang Seng, a local sculptor. It is 8.6-metre high statue and is located at one end of the Marina Bay Waterfront. Marina Bay Sands is an iconic ship shaped building located at the Bayfront. This building consists of three towers connected at the top by a 1-hectare ship shaped roof terrace. The statue of Sir Stamford Raffles is located at the Raffles Landing Site near BoatQuay. Sir Raffles is said to be the founder of the modern day Singapore. Read our article on Singapore River Cruise to get more details.
4. GARDENS BY THE BAY
Gardens by the Bay is a modern iconic green space marked with super grove trees in central Singapore. Opened in 2012, this project's aim was to keep Singapore's title as a City in a Garden.
WHY you must visit Gardens by the Bay?
Gardens by the Bay is a structural design achievement that should definitely not be missed by anybody who ever sets foot in Singapore. The gardens' advanced concepts combine nature and modern technology, creating a futuristic wonderland. Enjoy the view from the Sky Walk and see the gardens from above! At Gardens by the Bay, you could easily lose track of time and spend the whole day. Enjoy the unique Cloud Forest and Flower Dome.
5. MARINA BAY SANDS SKYPARK OBSERVATION DECK
The Sands SkyPark Observation Deck is a popular tourist attraction that overlooks Singapore from the top of the Marina Bay Sands building. The viewing area is located at the stern of the ship shaped SkyPark. The observation deck offers a fantastic 360-degree view of Singapore with guided tours conducted daily on a first come, first served basis.
6. SOUK UP CHINESE CULTURE IN CHINATOWN
Singapore's Chinatown is a true mix of old and new at the city's central area. It is a place to explore Chinese heritage and culture with its old temples, historic shophouses as well as traditional wet markets. Family-run stores and ancient teahouses can also be found here, giving a hint of the old Chinatown. Boutique hotels, chic restaurants, and hip bars also co-exist and lend a modern touch to this fascinating place.
TOP ATTRACTIONS IN CHINATOWN
Visit the Chinatown Heritage Centre and catch a glimpse of early life in Singapore. The center is a recreation of old houses and street scenes that tell the wonderful story of the old Chinatown. Explore the four-storyBuddha Tooth Relic Temple and see over 300 Buddhist artefacts from different parts of Asia. The sacred relic is stored in a 2-metre solid gold stupa at the temples 4th floor.
7. GO CLUBBING AT CLARKE QUAY
Clarke Quay has the ultimate nightlife in Singapore. As soon as the sun sets, Clarke Quay transforms into a lively and vibrant night spot. This riverfront place was named after Singapore's 2nd Governor, Sir Andrew Clarke. The quay was home to warehouses that were used to store commercial goods transported from the nearby Boat Quay. Today, the old warehouses have converted into modern bars and restaurants that attract party goers to this side of Singapore.
8. ENJOY ORCHIDS AT NATIONAL ORCHID GARDEN
National Orchid Garden is located inside the famous Singapore Botanic Gardens. It is spread across three hectares on the botanical gardens' highest hill. The gardens' landscaped slopes showcase more than 1,000 orchid species and 2,000 hybrid orchid species. This beautiful garden is divided into four zones that follow the four seasons with a distinct color theme for each zone. The garden opened to the public in October 1995.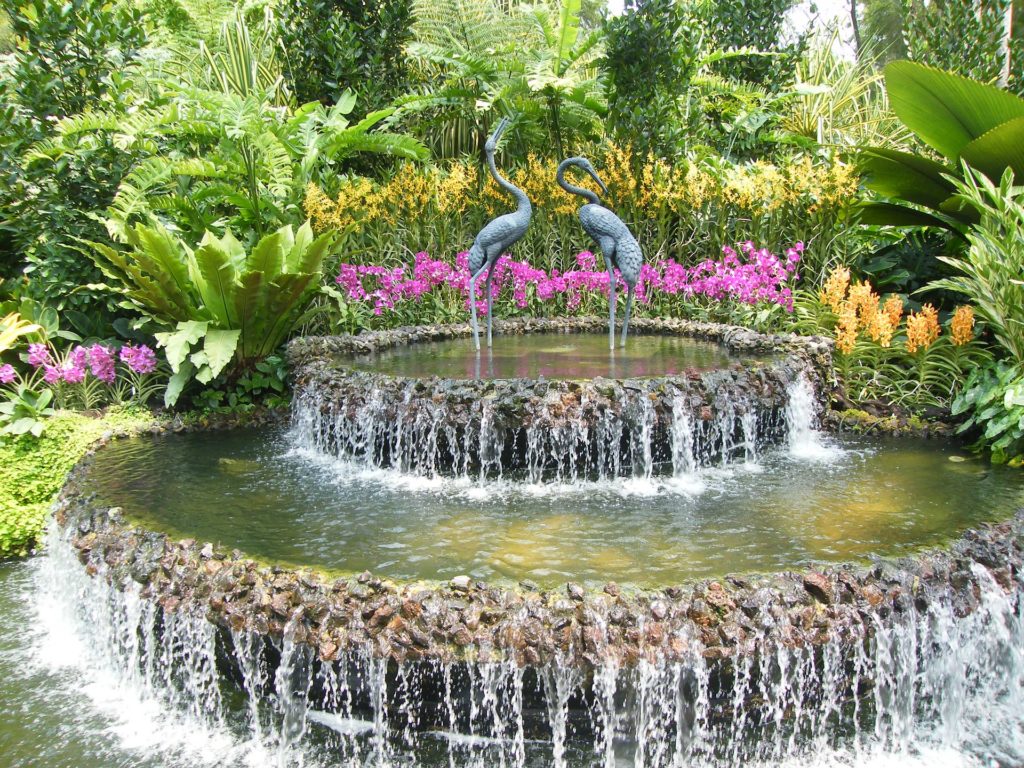 9. SPEND A DAY IN SENTOSA
Sentosa Island is located 15 minutes away from the city center and features numerous fun attractions that make it an awesome island resort for rest and recreation. The island is said to have served as a fortress in the 19th century and became a military base post Second World War. You can check out a one-day itinerary for Sentosa Island suggested by us in case you are here in Singapore for a short trip.
10. JURONG BIRD PARK
Jurong Bird Park is the first biggest of its kind in Asia. It spreads across 20 hectares of greenery on Jurong Hill and one can view more than 5,000 birds. The bird sanctuary opened in 1971 and is managed by Wildlife Reserves Singapore.