New Delhi, capital of India, has a long standing history to look back. Mughal and Indian kings made Delhi time and again, their capital and built some beautiful architectural wonders. Most of these are even free to visit.
Here, we list down for you top five places of historical significance –
1. Red Fort
Red fort is a historic landmark in Delhi and hosts the Independence Day celebrations every year. It is said to be as old as 1639, built by a Mughal emperor Shah Jahan when he shifted his capital from Agra to Delhi. Now, you can witness a light and sound show at the fort and was declared a UNESCO world heritage site in 2007.
Red Fort Address – Netaji Subhash Marg, Lal Qila, Chandni Chowk, New Delhi, Delhi 110006, India
2. Jama Masjid
One of the largest mosques in India, Jama Masjid was constructed by Mughal Emperor Shah Jahan between 1650-1656. It is located in the heart of Old Delhi with the famous Chandni Chowk market surrounding it. Best time to visit Jama Masjid is in the morning before rush of people comes in and there is enough light for some beautiful photographs.
Jama Masjid Address – Jama Masjid Rd, Jama Masjid, Chandni Chowk, New Delhi, Delhi 110006, India
3. Qutub Minar
Qutab Minar is a 73 metres tall tower in Mehrauli area of Delhi. Its construction was started in Qutub Ud Din Aibak's reign and has a spiral staircase inside, which is no more open to public and it was declared a UNESCO world heritage site in 1993.
Qutab Minar Address – Mehrauli, New Delhi, Delhi 110030, India
4. Humayun's Tomb
Humayun 's tomb is the tomb of Mughal Emperor Humayun located in east Nizammuddin. It was built in 1570 and is made of red sandstone. It inspired construction of many other architectural innovations and eventually lead to construction of Taj Mahal and was declared a Unesco world heritage site in 1993.
Humayun's Tomb Address – Mathura Road Opposite, Hazrat Nizamuddin Aulia Dargah, Nizamuddin, New Delhi, Delhi 110013, India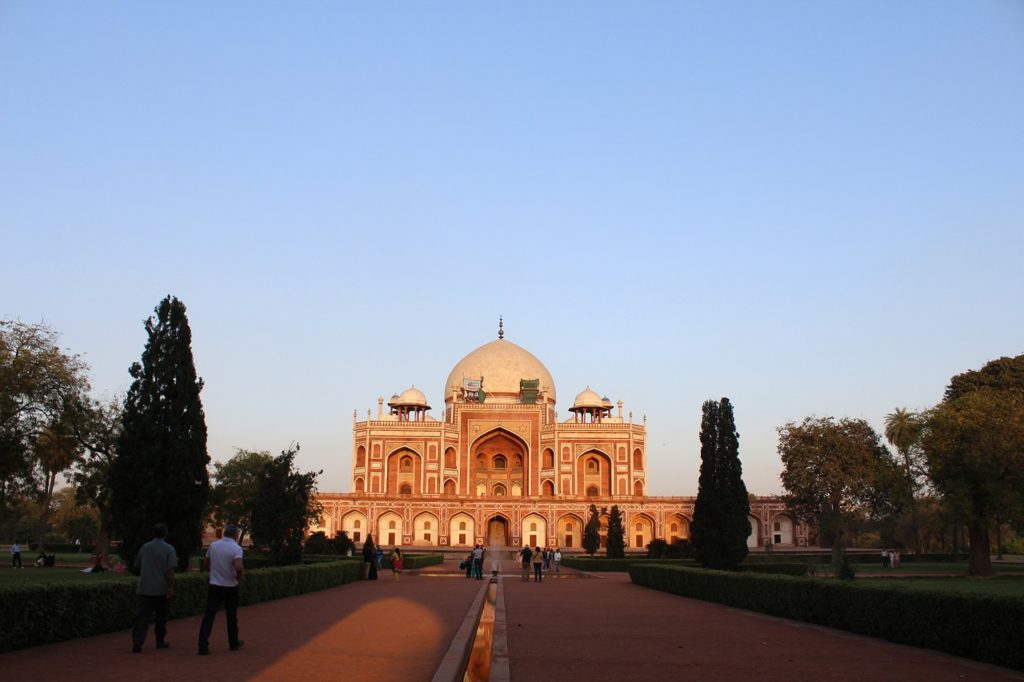 5. India Gate
Constructed in 1931, India Gate is a war memorial built in memory of undivided Indian Army Soldiers who passed away during World War 1. It is located in the heart of Delhi and is surrounded by big lavish lawns around it. After India became independent, India Gate also became the site of Amar Jawan Jyoti that is Indian Army's Tomb of the Unknown Soldier. This is said to be among the largest war memorials in India and a must visit especially at night when it is beautiful lighted in Indian flag colours.
India Gate Address – Rajpath, India Gate, New Delhi, Delhi 110001, India